Monetizing data especially real-time data streams was once a complex task. No marketplaces were set-up to handle the sheer volume and speed required until now. If your company has a real-time data stream you can quickly list it in our data marketplace and with our SDK's push the data into the platform. We will handle all scaling, metering and billing so once it is up, you just collect the checks. Our easy 8 step process will get you up and running in now time.
Simple 8 Step Process
1 - Enter stream basic information (title, description, etc)
2 - Select your categories

3 - Select the countries to make your product available to
4 - Set your pricing
5 - Set the End-User License Agreement and upload any documentation
6 - Enter the customer support contact details
7 - Select your data source
8 - List and push your data via our SDKs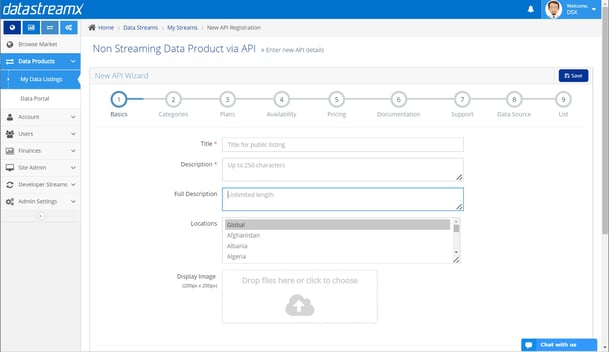 Our registration wizard gets your listing up in no time
In the upcoming weeks we will deep dive into each step. Join us as we guide you in the journey to monetize data.All ready to list your data now? Click here to download our technical guide for registering and integrating non-streaming data products.