Placing a data listing on DataStreamX is a completely self-service operation. For companies who have invested in developing an API management layer, we enable you to take full advantage of this investment. Simply register your product and provide the link in the data source to your API and you will be up and running in minutes in the DataStreamX data marketplace. DataStreamX makes it that simple to monetize data on our platform.
Simple 8 Step Process
1 - Enter stream basic information (title, description, etc)
2 - Select your categories

3 - Enter the purchase plans
4 - Select the countries to make your product available to
5 - Price your plans
6 - Set the End-User License Agreement and upload any documentation
7 - Enter the customer support contact details
8 - Select your data source.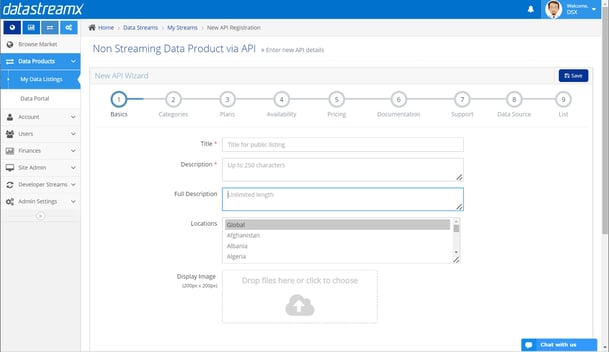 Our registration wizard gets your listing up in no time
In the upcoming weeks we will deep dive into each step. All ready to list your data now? Click here to download our technical guide for registering and integrating non-streaming data products.